PAINT & HOUSEWARES
PAINT / STAIN:
Whether you've been meaning to paint that upstairs bathroom for ages, want to give your living room or kitchen a nice facelift or just need to do some minor touch-ups, EM Herr has the paint or stain you need to give your home a fresh new look. Plus we carry the brand names you know and trust including:
---
Paint / Stain Types:
We have products for all your painting and staining jobs inside and out including:
Interior / Exterior Paint
Equipment Paint
Interior / Exterior Stain
Primer
Sealant
Driveway & Roof Coatings
and more...
Need help finding the right primer, paint or stain for your application? Just ask our friendly store associates who can help you find just the right product for your needs!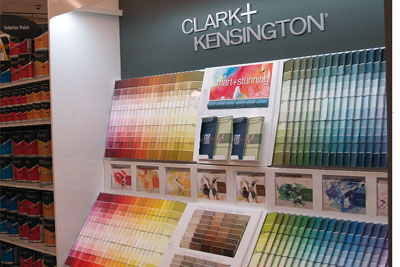 Color Matching Service
Have your heart set on a color, but just can't find a paint sample that matches? Not to worry. At EM Herr our paint experts can match just about any color of the rainbow and beyond. Just bring us a paint sample or example item and we'll work our magic for you! Ask a store associate for details!
PAINT & STAINING SUPPLIES:
The best painting and staining results come from using the right equipment for the job. That's why we carry a variety of painting and staining supplies to make your job easier and more convenient.
See our painting supplies section for:
Applicators / Tools
Surface Prep / Cleanup
Caulk & Gap Filler
Adhesives
Drop cloths, Tarps, Sheeting, Rags
Driveway & Roof Applicators
and much more...
Need help deciding on paint supplies and equipment? Just ask an associate in the paint department. We'll be happy to point you in the right direction!
HOUSEWARES:
Our housewares section is stocked with everything you need to make your house a home. Visit either of our convenient store locations for a great selection of housewares including:
Cleaning Supplies
Mops / Brooms
Small Appliances (coffee makers, mixers, toasters, microwaves and more)
Canning Supplies
Kitchen Essentials
Curtain Rods
Drapery Hardware
Shelving
Storage
and much more...
Have a question? Need to find something in particular? Don't be afraid to ask! Our friendly store associates are always glad to help!